April Travelling Art Exhibit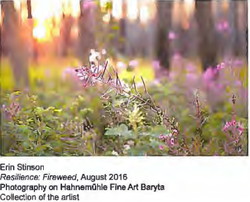 Beyond 'the patch' 

Stories from Wood Buffalo

KAHS Library 

April 10 – May 8, 2019
Until May 3, 2016, the urban area of Fort McMurray and the Regional District of Wood Buffalo, nestled in the boreal forest of north-eastern Alberta, were basically known for one thing – the oil patch.  Described as the economic engine of Canada the story of Fort McMurray – a narrative of migrant workers; enormous wages; and high costs – was either praised or reviled by the rest of Alberta's population, across the nation and internationally.  On May 3, 2016, a new chapter was added to this story: the devastating Fort McMurray wildfire.  Forcing the evacuation of 88,000 people and eventually destroying 15% of the city 'the beast', as it became know, gave birth to new perceptions of the region.
The story of Fort McMurray and the regional district of Wood Buffalo, of which it is a part, is about much more than oil or devastation.  As tragic as the fire of 2016 was and while the oil industry continues to drive the economy of the region, these are only two aspects of life in the north-eastern part of Alberta. 
The Alberta Foundation for the Arts Travelling Exhibition (TREX) Beyond 'the patch' Stories from Wood Buffalo examines the little known region, investigating what it has to offer and what it is like to call this area home as these themes are rendered in the work of five artists from the Wood Buffalo region.  Through their drawings, paintings and photographs artists David Ball, Lucie Bause, Shauna Kelly, Kritsana Naowakhun and Erin Stinson share what they see and experience, inviting viewers to see beyond the conventional chronicles of 'rig pigs' and pipelines and offering opportunities for the creation of new and more profound narratives.
Alberta Foundation for the Arts
TREX
Government of Alberta
Art Gallery of Alberta