Back to all posts
Posted on
Open House BBQ: June 9th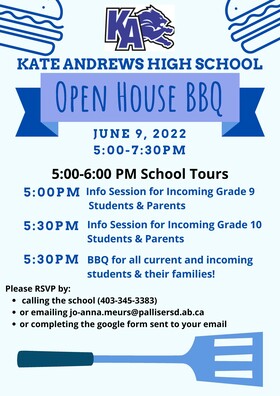 Kate Andrews High School is hosting a BBQ on June 9th from 5:00-7:30pm (weather permitting) for all incoming and current students and their families!
This is a great opportunity to mix and mingle with teachers and staff at KAHS in a relaxed setting. The entire event is FREE to attend! 
There will also be School Tours and Info Sessions for Incoming Grade 9 and 10 students and parents. 
At 5:00PM we will be hosting a Grade 9 info session to provide information on what students and parents can expect when entering into Grade 9. 
At 5:30PM we will be hosting a Grade 10 info session to provide information on what students and parents can expect entering into Grade 10. This will include information on credits, graduation requirements, and course streaming. Presenters: Mr. Grimes (Principal), Ms. Alexander (Vice Principal), Miss Meurs (Academic Counsellor)
Please RSVP here: https://forms.gle/wUHckVJU8eDd59wr6