Back to all posts
Posted on
OCTOBER Student of the Month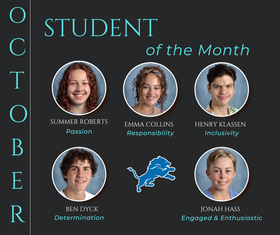 PASSION - Summer Roberts (Gr. 10)
Nominated by: Mrs. McDougall & Mrs. Davies
Summer exudes passion for so many things she does! She is an engaged member of Student Council and has displayed passion for all things fine arts! She has been harassing Mrs. McDougall daily about the spring production, and we can tell that she has an immense amount of passion for the dramatic arts. She gives her absolute all to everything she takes on, and truly strives for the very best. She is truly a ray of sunshine.

RESPONSIBILITY - Emma Collins (Gr. 10)
Nominated by: Miss Meurs
Emma is a student that can always be counted on. She is reliable, organized, and shows a strong work ethic. Emma joined student council this year and has quickly become an important member of the team. Emma assists our extra curricular programs wherever she can and  is willing to do extra to make sure Kate Andrews is successful. She is full of great ideas and shows strong leadership skills. 
INCLUSIVITY - Henry Klassen (Gr. 12)
Nominated by: Ms. Hierath
Henry is a friendly and kind person towards all students as well as staff. His big smile and warm personality are extended to all. In class he has befriended many of our international students and has gone out of his way to visit with them, make friends, and invite them to get together after school. Henry is a conscientious student who always tries his best, even when things feel difficult. He has an excellent attitude in all areas of his life and we are lucky to have him here at Kate Andrews! Congratulations, Henry! 
DETERMINATION - Ben Dyck (Gr. 12)
Nominated by: Miss Gurski
I am nominating Ben Dyck due to the tenacity he is demonstrating in ELA. Ben is working hard to reach his goals, by being mindful and taking ownership of his learning. Over the last few years Ben has grown into a great leader at Kate Andrews, his participation and involvement in student council is so appreciated! Ben wants to make Kate Andrews a great place to be. His determination and positivity are so appreciated. 

ENGAGED and ENTHUSIASTIC - Jonah Hass (Gr. 9)
Nominated by: Joshua Nihill
In volleyball, Jonah is always giving his all. He exudes energy and is always eager to try his best. This season, he was always one to rally the team by getting loud and showing his excitement. Both his play and his energy made him a valuable member of the Grade 9 team. In class, Jonah is respectful and eager to learn; he is often the first student with his hand up. He is always engaged in his work and is dedicated to doing his best.