Back to all posts
Posted on
2016 WE CREATE CHANGE INITIATIVES!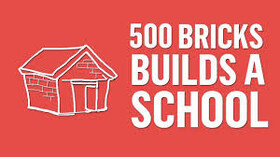 "We Create Change" is back at Kate Andrews High School for the 2016-17 school year and now is your best chance to open doors for children everywhere!  Show your belief that all children - girls and boys - have the RIGHT to go to school.
This year, we are raising money to build a 500 brick school.  Each brick costs $20, which puts us at an ambitious fundraising goal of $10,000!  
$20 in change = One Brick!
One Brick = The cornerstone of education!
Education = Change for the World!
You can find more information here.