Back to all posts
Posted on
2019-2020 School Year - New Student Afternoon! JUNE 5th.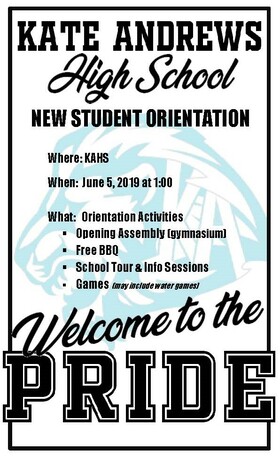 Students who will be new to KA in the 2019-2020 school year (any grade) are invited to come to KA for a BBQ lunch, school tour, and information session(s) on WEDNESDAY, JUNE 5th from 1 - 3:15pm. Regular KA Classes are still in session, so you can come hang out and see what to expect - meet some of your teachers and talk to other students!
Grade 8 & 9 students from St. Joseph School and Grade 8 students from RI Baker will come as a group, however we welcome any students who are interested in finding out more about KA, who may new to the Coaldale community.
Students that are not coming with the St. Joseph or RIBaker groups, please RSVP to 403-345-3383 by Thursday, May 30th if you plan to attend.
(Please note, there will also be a brief, Grade 9 orientation session on Friday, August 30th, which is when Grade 9 students will pick up text books, schedules and locker assignments for the upcoming school year. More information about this, will be available as it is planned.)