Back to all posts
Posted on
Get Your Tickets Now!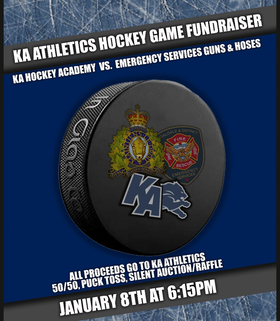 KA Athletics is excited to announce that we will be hosting the 2nd Annual Hockey Game Fundraiser between the KA Hockey Academy and the Coaldale Emergency Services Guns & Hoses team on Wednesday, January 8th at 6:15pm.  
Proceeds from ticket sales, 50/50 draw, Puck Toss, Shoot to Win Contest, Silent Auction and raffle Table will go towards KA Athletics.  
Tickets are $5 each and available from the KA Office.
Come out and watch a fun hockey game, while supporting Athletics at KA.