Back to all posts
Posted on
ADMAZING SAVINGS COUPON BOOKS FOR SALE!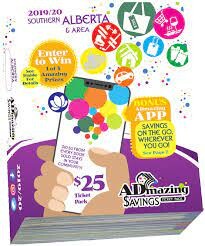 Admazing Coupon Books are available for sale until October 15th from KAHS Athletes!  These books contain tons of savings coupons for businesses across southern Alberta.  The bulk of the coupons are for businesses in Lethbridge and Medicine Hat.  
Contact any KAHS Athlete or Mr. Ressler (clayton.ressler@pallisersd.ab.ca) for more information or to get a book!  Each book costs $25.00, with half of the proceeds going directly to KAHS Athletics!
https://admazingsavings.com/advertise/preview-southernalberta/