Back to all posts
Posted on
Do you want some POPCORN?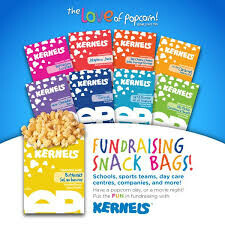 Band students are currently fundraising with KERNELS POPCORN.  Each snack sized bag costs $2.25 and in return the band program will receive $1.05 per bag. 
The popcorn is offered in 9 delicious flavors:  White Cheddar, Butter Salt, Salt & Vinegar, Dill Pickle, Air Caramel, Kettle Corn, Creamy Caramel, Say Cheese, and Ketchup. 
Each snack-sized popcorn bag includes a BUY ONE Medium Bag, GET ONE FREE Coupon for Kernels.  All orders need to be turned in to Mr. Godin NO LATER than Monday October 22nd and the Popcorn will be ready to pick up from KAHS on Tuesday Oct. 30th.
Parent and/or student volunteers are still needed to help fill all the orders after school on Monday, Oct. 29th. If you have any questions please contact Mr. Godin (403-345-3340 or scott.godin@pallisersd.ab.ca).