Back to all posts
Posted on
Fine Arts Night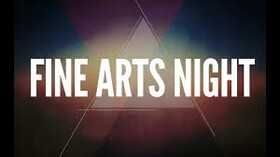 Join us for an evening in celebration of the arts at our school.
Tuesday, November 26 @ 6:30pm.
Donations to the Coaldale Food Bank will be accepted in lieu of admission.
The event will feature:
The KAHS Jazz and Concert Bands will present works in progress. Here, the audience will be introduced to the various musical components at work. 
Arts students will offer an art show & sale, with many beautiful works available for purchase.
The art room will also offer some mini-workshops for those interested in developing new skills
Holiday cards designed by KA students will be for sale, with proceeds being donated to the Coaldale Food Bank.
The drama program will present two vocal collages along with some other pieces developed in class
Leadership students will be offering a bake sale, with lots of delicious treats for purchase!