Back to all posts
Posted on
High School Students: First Day of School!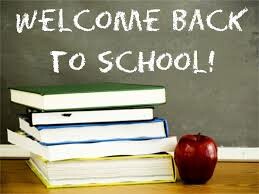 Grade 10's first day is Thursday, September 3rd.  The designated door is at the back of the school, near the Foods room. 
Grade 11's first day is Friday, September 4th.  (Please note, as always Friday's are half days students will be finished at 12:20.)  The Grade 11 designated doors are on the North side of the building at the bus entrance.
Grade 12's first day is Tuesday, September 8th.  The designated doors are the main doors to the school, near the office. 
These first days are regular school days.  They are not just for orientation & registration, so please come prepared for classes for the day.   
On your first day please arrive at KA between 8:30 – 8:45 am.  Tables will be set up outside near your designated doors, alphabetically according to LAST NAME.  Please go to the appropriate table, where teachers will give you your masks and your schedule.  Teachers will then be there to help you get to where you need to be. 
Once everyone is in their classrooms, teachers and administration will be reviewing some rules and procedures with you.  Students will proceed for the day with regular scheduled classes and those who have paid their school fees will receive their text books. 
If you have a mask, please wear it when you come on your first day, and please try to try to follow physical distancing guidelines wherever possible.   We realize that there are going to be trials and tribulations as we adjust to the "new normal" of school this year.  We just ask that everyone try to be as flexible as possible as we try to work through all of the new situations that arise. 
We're looking forward to seeing you!  Welcome back to KA!