Back to all posts
Posted on
If you are in Grade 12 - YOU NEED TO SIGN UP FOR MYPASS!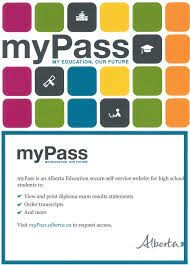 High School Students - especially Grade 12 students need to register for myPass.  
This is how transcripts are ordered, how Diploma Exam marks are viewed, plus much more.  Schools can not issue official transcripts - they must come from Alberta Education.
All high school students are eligible to sign up for a myPass account.  Go to myPass.alberta.ca to sign up.  Once you sign up Alberta Education will mail you your confidential password.