Back to all posts
Posted on
JOSTENS CLASS OF 2017 JEWELRY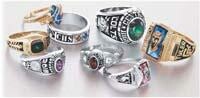 Kate Andrews HS - Class of 2017 - Celebrate!
New 4 U - Bracelets, Pendants, New Rings!
A Jostens representative will be set up at a table just outside of the Lunchroom on Thursday, December 1st, from 11:40 - 12:30 to take orders.  
Pick up your catalogue in the office or design your ring at www.jostens.com.
A $60 deposit is all that is required at the time of ordering - prices start at just $99.