Back to all posts
Posted on
REVISED GRAD PARADE ROUTE June 19 2020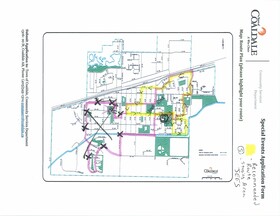 REVISED GRAD PARADE ROUTE June 19 2020
There is a very important change that we need to communicate with you regarding the KAHS GRAD PARADE ROUTE. 
We have just been informed that our parade application has been denied by the Town of Coaldale, as we are not allowed to cross Highway 845.    The Town and Emergency Services have created a new parade route, which we will follow so that we are allowed to hold the parade. 
The new parade route is attached above. (THE NEW PARADE ROUTE, AS DIRECTED BY COALDALE EMERGENCY SERVICES IS HIGHLIGHTED IN YELLOW ON THE MAP).   The new parade route starts at Jennie Emery Elementary School which is where all Grads should meet in their vehicles prior to 3pm.   
The RCMP want to also remind grads that they are not permitted to ride in truck boxes.   
Please make sure to share with family and friends who may have planned to celebrate from the former route.