Back to all posts
Posted on
Semester 1 Exams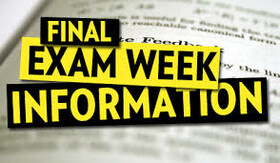 Due to the changes in education over recent months (i.e. the temporary switch to on-line learning for Grades 7-12 students from November 30 – January 8th) and the cancellation of Diploma Exams by Alberta Education, we have decided to restructure our traditional Exam Week.  Monday, January 18th will now be the last day of regular scheduled classes for Semester 1.  Final Exams will take place on the mornings of January 19th – 22nd.   Final exams will take place in Cohort classrooms and will begin at 9 am sharp.  Upon completion of an exam, students may leave the school, or they may stay in the exam room to work quietly at their desk.  Students are not permitted to loiter in halls or common areas of the school.
Instead of regular scheduled classes in the afternoons, students may work in their cohort classroom to catch up on any missing assignments or to study.  Teachers will be available to assist students, and some will be setting up study sessions.  (If students wish to receive help from a specific teacher, they are encouraged to make prior arrangements with that teacher.) 
Exams will occur as follows from 9am - Noon:
Tuesday, January 19th – Period 1 Class Exams
Wednesday, January 20th – Period 2 Class Exams
Thursday, January 21st – Period 3 Class Exams
Friday, January 22nd – Period 4 Class Exams
Additionally, the Grade 9 classes will write English/Language Arts as follows:
9C & 9D:  Tuesday, January 19th at 1pm
9A & 9B:  Wednesday, January 20th at 1pm
The first day for Semester 2 classes is Monday, February 1st.