Back to all posts
Posted on
Spring Band Concert: June 6th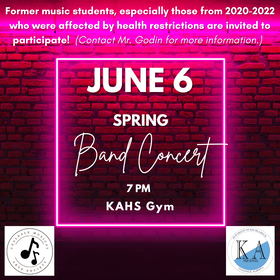 The Kate Andrews Spring Band concert is Tuesday, June 6th at 7pm.
After three years of health restrictions and cancellations, we have finally returned to some sort of normal routine. To celebrate this, I would like to invite former music students to join us! Although I am reaching out to graduating students from 2020-2022 who were directly affected by the health restrictions, all former students are welcome. The concert will feature pieces learned during this time, including Cajun Folk Songs (2018), Aladdin (2019), and finishing the concert with Chasing Sunlight (2019 - I would love to have everyone join us for this piece!), as well as some jazz music from the same period.
If you are interested in joining us, please contact Mr. Godin (scott.godin@pallisersd.ab.ca) at the school for more information. If you need an instrument, the Coaldale Musical Arts Society has graciously agreed to cover any instrument cleaning fees that may be incurred for the concert. Please join us - it would be great to see you again!