Back to all posts
Posted on
Student of the Month - September!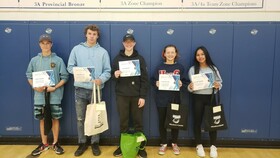 Kate Andrews has a brand new Student of the Month program, and we are so happy to announce our September winners! There are 5 winners every month, and they can be nominated by teachers, students, parents, or community members. We are proud to celebrate our students excelling in Kate Andrews P R I D E - Passion, Responsibility, Inclusivity, Determination, and Engaged and Enthusiastic. These are qualities that we want to recognize that include both academic skills, but also strength of character.
The September winners are:
PASSION - Tyler McNeil (Gr 10)
Nominated by: Kennedy Gurski and Tren Jolicoeur
Tyler shows great dedication to his studies and is always looking for ways to grow as an individual. He brings positive, humorous energy to every class and also encourages other students to be passionate and engaged with lessons, discussions and work. Tyler shows passion in almost everything he does, from volleyball to jazz band. Tyler is an incredible trumpet player and an amazing person in general. Not only is he passionate about the things he does, but he is also extremely determined. He's determined to get his work done, and he makes sure it is done well. Tyler is very well deserving of this award.
RESPONSIBILITY - Nick Klassen (Gr 12)
Nominated by: Kim Alexander
Nick attends classes regularly. works to complete his assignments, and comes prepared to every class, ready to learn. He shows up early to volleyball practice every time and is willing to help the coaches with anything that needs to be done. His dedication to his classes and his team has not gone unnoticed.
INCLUSIVITY- Lesley Roszell (Gr 11)
Nominated by: Kennedy Gurski
Lesley has taken a leadership role in Creative Writing. They have made all of the international students feel welcome by offering support in their studies, information about the school and just reaching out to have friendly conversations. Lesley is an active member of Book Club, did an amazing job in our Drama Production last year (taking the role on last minute after a casting change) and her positivity is contagious to those around her. No matter what she is involved in, Lesley wants all students to feel welcome at KA.
DETERMINATION - Zyrylle Bagalay (Gr 12)
Nominated by: Kennedy Gurski
I nominated Zy because of their determination in their studies.  They have shown perseverance by setting goals and working hard to achieve these goals. Zy is always willing to set aside time to focus on what needs to be done.  Zy is always positive, even when things are difficult.
ENGAGED AND ENTHUSIASTIC - Lukas Segouin (Gr 9)
Nominated by: Clayton Ressler 
Lukas is an engaged student who can always be counted upon to try his best in his work and contribute to class discussions in a thoughtful and positive way. Lukas is the kind of student who is always listening and working hard and is dedicated to do his best in every aspect of his learning. He gives 110% is everything he does.